Here you can find an overview of our regularly scheduled activities. The dates for special events can be found on the "Schedule and Events" page.
Church Service
Almost every Sunday is our church service at 10:00 a.m. Christians and non-Christians alike are invited to attend. We plan the service in such a way that even people without a Christian background will feel comfortable here. A mixture of modern and traditional songs is used during the musical part of our service. Especially important to us are our children. A children's service is offered parallel to the main service.
Seeker Service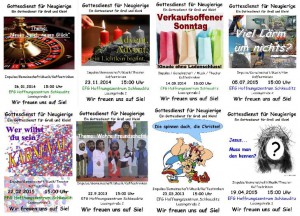 This is an opportunity for those people who are simply curious and want to check us out. This church service take place every two months at 3:00 pm followed Coffee Time. The dates are posted in the Schkeuditzer Boten, in our church newsletter, on the bulletin board and on our website. Everyone is welcome! It is a church service for young and old!
Communion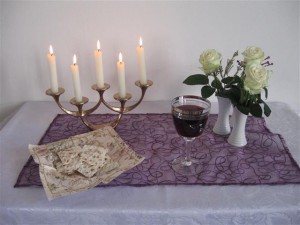 Communion plays an important roll in our church life. On every first and third Sunday of the month, we take time at 9:00 a.m. to remember together that Jesus died on the cross for our sin. If a Praise and Worship Service is taking place on this Sunday, then Communion is integrated into the regular service. The dates for the Praise and Worship services can be found in the Event Calendar.
Thrift Shop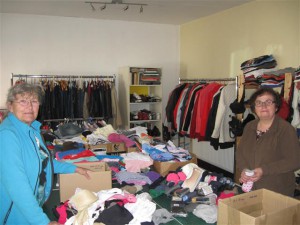 We offer good, used and a few new articles of clothing for a small price. We also gladly accept well-preserved clothing. We are available to you on Mondays and Wednesdays from 10:00 a.m. to 1:00 p.m.. You can visit us in the back building. We're excited to see you!
Counseling
Would you like to have a personal and confidential conversation? Are you looking for guidance in your life situation, or simply someone that will listen? Please feel free to contact us!
Home Groups
Our home groups are small groups in which we reflect together on the Bible passage from the sermon on the previous Sunday. We talk about the things that are stirring in us at the moment, exchange thoughts, and grow together in our faith. The different home groups meet on varying days. If you are interested in attending a home group, simply approach us personally, or contact our church administrator.
Children's Program
For the 8-12 year olds, "Jungschar" takes place on Saturdays at 10:00 a.m. We share with each other about the past week and can also talk about whatever is on our hearts. We discover interesting stories from the Bible or talk about current topics. In addition to all this, we always have an action game, because we have a lot of energy! This group breaks for regular and school holidays.
Mother-Kid Breakfast
On the first Friday of the month, mothers and their small children meet together for breakfast at 9:00 a.m.. We laugh, play, talk, listen, and of course, eat a delicious breakfast. We also exchange notes and discuss those topics that concern us as mothers.
Dear Moms, you are warmly welcome!
Youth Group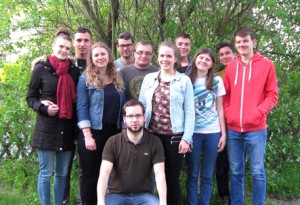 We are teens (13+), adolescents, and young adults. We meet Fridays at 7:00 p.m. to eat together. The evening program is always different.
Simply stop by—we warmly welcome you!
Prayer meeting
Do you have prayer request for which we can pray? Then simply drop by or share them with us. We meet every Wednesday at 7:00 p.m. with a weekly focus for which we pray.
Addiction counseling
We provide the opportunity to speak with a member of the "Blue Cross" about addiction problems. This offer is not only for addicts, but also for friends and relatives of addicts as well.
We can offer you substantial help! Please contact us!
Breakfast and Work Day
Every Wednesday morning you have the opportunity to exert physically energy in the Hope Center. After an ample breakfast at 9:00 a.m. with lots of talking and laughing, we get to work on everything possible inside and out. There is also time to talk and get to know each other, as well as improve manual skills and apply them right away. Everyone who has time on Wednesday morning is welcome to come! There is something for everyone to do!