Ecumenical city festival Service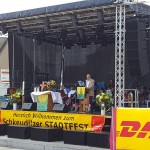 Traditionally, the city festival in Schkeuditz also includes the city festival service, where many municipalities of the city participate. As the preacher, we were able to win Martin Reakes-Williams from the Leipzig English Church (LEC) who spoke about Jeremiah 29: 4-7. God at that time told exiles living jewes that they should establish themselves in foreign countries, engage themselves and not behave as exiles, but as migrants. They should look for the best for their city, because if their environment were doing well, they would be doing well.
And from this we can also derive something for our lives as Christians on the earth, which we as exiled heavenly citizens should also use for our environment and the people around us. Because in this tension, we are living as children of God: Our homeland is in heaven, but we are still on the earth and therefore should engage us where God wants us to use.