Women's breakfast and treasure hunts
After we had paused in the second half of the year 2016, a women's breakfast took place in the hope c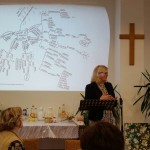 enter in March. The fact that it was missed last October was clearly visible in the number of visitors: 95 women had come to fill the 83 seats. And, by a miracle, no one had to go home before the event. Everyone finally got a seat. Tabea Heise, a graduate psychologist with her own practice and head of "Leipzig Glaubt", talked about the topic "break through your negative thought patterns" and the audience listened interested. The lecture was accompanied by beautiful music.
In the meantime the Jungschar (children from 8-12 years) had broken up a treasure hunt in t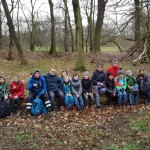 he Auenwald. 17 Children and employees spent the morning outdoors, eating breakfast together and searching the hidden gold. It was a lot of fun and on the children's faces it was clearly visible that they enjoined getting something from the prey.