As every year, on Christmas Eve, we celebrated a seeker service. Many visitors had come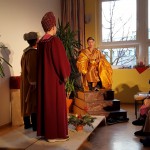 and together we sang Christmas songs and enjoyed the charming and funny Christmas play, which Matthias Ganzow had practiced with the actors. The play gave a glimpse behind the scenes of the Christmas story, true to the motto, which stood over the afternoon. The angel Gabriel told the Christmas story from his own perspective and Markus Schmidt presented in the subsequent sermon, which was the reason for all these events. God became man in Jesus Christ to save men. For by their sin, their guilt and error, they are separated from God. But he did not want to give up his creatures. That is why he became a man and lived a life according to God's will. But not enough. By his death on the cross Jesus took all the blame that we humans would have deserved. Thus the way to God is free again. A relationship with God is possible again! Thus, those who entrust Jesus with their lives and personally claim their sacrificial death on the cross can be very close to him forever. What a gift! Therefore, crib and cross are inseparable.
After the service many of the visitors were still together for a while with coffee and cake before Christmas was celebrated at home.
Do you have questions about the gift that God makes to us and you personally for Christmas? Or do you want to know more about Jesus and his sacrificial death on the cross? Please feel free to contact us!